HRL'S ACTIVITIES IN VIETNAM
- HRL exported refrigeration compressors (to Hanoi), since the prewar period
- Since 1967, the export of the vertical ammonia compressor to the South Vietnam has expanded
- In 1972, HRL won the contract in an international tender for the ice making plant funded by the Asian Development Bank.
- Since 1990, HRL has supplied the great deal of refrigeration facilities for Japanese corporations in Vietnam.
- Since 2000, numbers of refrigeration compressors have been delivered for seafood processing and freezing.



RECENT CASES
Effects of high performance compressors for the refrigeration facilities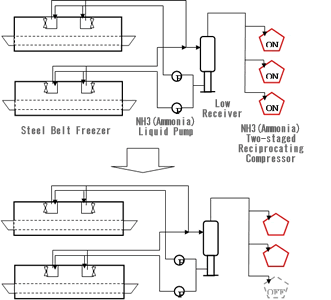 Before
IQF freezing for fish fillets through a steel belt freezer (2008)

Ammonia reciprocating compressors were installed in the center of the system
Refrigeration by the liquid pump system
Cooling down using three compressors of 110kW

After
Once the refrigerant achieved at the required temperature, two compressors well maintain its refrigeration capacity.
Comparing with four compressors used before (three compressors after the initial cooling), the operation cost was radically reduced.