ABOUT US, HASEGAWA REFRIGERATION,LTD. (HRL)
Company Name
HASEGAWA REFRIGERATION, LTD.
Establishment as
a company limited
August 1, 1922 (First establishment: 1910)
Capital
JPY 100,000,000
Company Representative
The president and CEO, RYOJI ONO
Main Banks
Resona Bank, Mizuho Bank, Bank of Tokyo-Mitsubishi UFJ,
Sumitomo Mitsui Banking Corporation
License
・Licensed for Construction and Piping/Plumbing Works
By Minister of Land, Infrastructure and Transportation
・High Pressure Gas operation certified
・Manufacturing Refrigeration Facilities
・Accredited by ISO9001/2000 certification (Renewed to 2008 version)
GREETING FROM CEO, RYOJI ONO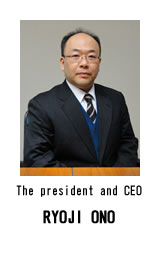 Ever since its foundation in 1910, HRL has committed to the development of the refrigeration industry.
Our commitment has never been limited only to the development and the production of our compressors, but also to provide maintenance service for the wide range of refrigeration facilities and plants worldwide.
The pioneering spirit, which led us to the successful invention of the first horizontal ammonia reciprocating refrigeration compressor in 1921, has been living in our souls to the present day.
The refrigeration plants, derived from our inventive mind and expertise, are widely acknowledged here in Japan and abroad.
They are effectively operated in the field of the marine vessel, food industry, chemical and general machinery as well as air-conditioning.

Having never been satisfied with our achievements, we are committed to advance the refrigeration technology further to serve every need and requirement of our users, and to promote higher quality products on a timely manner.


We became certified by ISO9001/2000 successfully in 2001, and in 2009, by ISO9001/2008.
This accomplishment has inspired us to develop and promote the new refrigeration system and products further.
Moreover, we sincerely hope we will contribute to the progress of all industries in Japan actively serving for the demands of our valued users and broadening our product range.

Factory and branches
・Amagasaki Rinkai Factory
59 2chome Ohhama Amagasaki Hyogo, 〒660-0095, Japan
・Tokyo Branch
Tokyo Koutsuukaikan 4F
10-1 2chome Yuurakucho, Chiyoda-ku, 〒100-0006,Japan
・Sapporo sales office
Hokkaido-suisan building 4F
7chome Kitasanjyo Chuo-ku, Sapporo,〒060-0003,Japan
Please contact us at +81 6 6583 1381 or above email addresses