NET WORK
The total management of HRL, as a global corporation trusted worldwide
The engineering of HRL has been recognized in South East Asia and other overseas countries ever since pre-War period as a manufacturer specializing not only in refrigerating machinery but also in the industrial refrigeration system. In recent years, HRL has established its international network.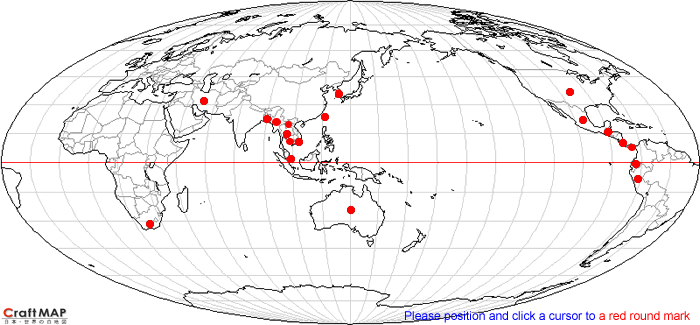 For the advanced nations of Europe and USA, we offer our products to the field which requires more advanced technology such as chemical, beverage and food relating industries. For Asian and Middle Eastern countries, not only do we promote our products, we also utilize our expertise in the way to suit the cultural and economic conditions in the region. This includes training, supervising local engineers and technicians, and instructing them to perform better maintenance service to our users.
Overseas Agents
BANGLADESH

ANRHUS & SHUZOS CO.


Concept Tower, 3rd Fl., SuiteNo.A-3, 68-69 Green Road, Dhaka 1205,
Tel: +880-2-964-1028/1029 Fax: +880-2-967-4119
Mobile: +88-01749-469613/+88-01726-694201
E-MAIL:mahirah1968@anrhus.com/emrandailymail@gmail.com
AUSTRALIA

COLD LOGIC PTY LTD.


24 Francis Street, Port Adelaide SA 5015
Tel: +61-8-82403333 Fax: +61-8-82401455
E-MAIL:solution@coldlogic.com.au
URL:http://www.coldlogic.com.au
MYANMAR

COOLWERKZ ENGINEERING LIMITED.


No.158, 45 Street, Between Bogyoke Street & Anawyatha Street,
Bothahtung Township, Yangon, Myanmar
Tel: +95-9-9532-79898
E-MAIL:paulgoh@coolwerkz.com

IRAN

INTER-FREEZE CO.,LTD.


No. 7, Arman Closed , Mottahari Ave., TEHRAN 1565657413,
Tel: +98-21-88438761 Fax: +98-21-88430193
E-MAIL:interfreeze79@gmail.com/pakgoharnasser@yahoo.com
URL:http://www.interfreeze-co.com
SOUTH AFRICA

NH3 REFRIGERATION (PTY) LTD.


The Castle, 36 3rd Street, Maitland, 7405
Tel: +27-21-5936554 Fax: +27-21-5936557
E-MAIL:hamish@nh3.co.za
URL:http://www.nh3.co.za
TAIWAN

SHENG SHEAN INTERNATIONAL CO., LTD.


No.12, Yongle St, Lingya Dist., Kaohsiung City,
Tel: +886-7-3310639 Fax: +886-7-3357428
E-MAIL:shengshean@gmail.com

THAILAND

SURELY ADVANCE CO., LTD.


123/21 Moo 5, Tambol Phanthai Norasing,Amphoe Mueang
Samutsakhon, Samutsakhon 74000,Thailand
Mr. Komson Vilaicharoentrakul
Tel: +66 34 410 936-7 Fax: +66 34 410 938
E-MAIL:info.surelyadvance@gmail.com

SINGAPORE

TEMPCOOL ENGINEERING (S) PTE., LTD.


159 Sin Ming Road,#07-12,Lobby 2,Amtech Building,575625,
Tel: +65-67462867 Fax: +65-67460206
E-MAIL:douglaslee@tempcool.com.sg
URL:http://www.tempcool.com.sg
MALAYSIA

TEMPCOOL ENGINEERING (M) SDN BHD.


No.21, Jalan Astaka U8/84A, Bukit Jelutong, 40150 Shah Alam, Selangor, Malaysia
Tel: +60-3-7831-4288
E-MAIL:tempcool@tempcool.com.my

VIETNAM
LAOS,CAMBODIA

VIET BON COMPANY LTD.


778 National Highway 1A, Binh Hung Hoa B Ward, Binh Tan District, Ho Chi Minh City, Vietnam
Tel: +84-8-3750-1056~3750-4068
E-MAIL:info@vietbon.com
URL:http://vietbon.com/

Please contact HASEGAWA REFRIGERATION,LTD. for other areas.


SOME EXAMPLES OF OUR SALES
For many years, HRL's industrial refrigeration plants have been constructed and put into service in the refrigeration warehouse for local production around the world. Similarly, HEL's refrigeration compressors ensure high performance quality and reliability, and have been making great contribution to every industrial refrigeration market worldwide.


Africa




ANGOLA、EGYPT、ETHIOPIA、GHANA、MADAGASCAR、MOROCCO、NIGERIA、SOUTH AFRICA、SUDAN、REPUBLIC OF GUINEA、GABONESE REPUBLIC
Asia


BANGLADESH、BURMA(現:MYANMAR)、CAMBODIA、CHINA、D.P.R.KOREA、HONG KONG、 INDONESIA、KOREA、LAOS、MACAO、MALAYSIA、MALDIVES、MONGOL、PAKISTAN、PHILIPPINES、 SINGAPORE、SRI LANKA、TAIWAN、THAILAND、VIETNAM
Europe


BELGIUM、DENMARK、UNITED KINGDOM、FRANCE、F.R.GERMANY、IRELAND、NETHERLANDS、
NORWAY、PORTUGAL、SPAIN、U.S.S.R
Middle East


IRAN、IRAQ、SAUDIARABIA、SOUTH YEMEN
Middle and South America


CHILE、SAINT LUCIA、VENEZUELA
North America


U.S.A
Oceania




AUSTRALIA、FEDERATED STATE OF MICRONESIA、NEW ZEALAND
Countries HRL has exported compressors are indicated alphabetically.