HRL'S ACTIVITIES IN THE PHILIPPINES
・ HRL supplied refrigeration compressors to Nippon Suisan Kaisha, Ltd. in Davao in the pre-war period
・ In 1960, beginning with the ice making plant project for Halilipeles Ltd. HRL continuously worked for the plant construction.
・ In 1968, HRL won the contract for the ice making plant, daily production of 1000 ton, for the Garcia Ltd. It was the largest ice making capacity in the world at the time.
・ Between 1980's to the 1990's, HRL delivered refrigeration plants for the state-operated fishing ports through OECF (Yen Loan Program)
- Iloilo
- Zamboanga
- Davao
- General Santos
・ To the private sector, HRL supplied a great deal of compressors, mainly for ice making plants, through its agent.



RECENT CASES
Facility Renewal Project (2003-2007 undertaken by stages)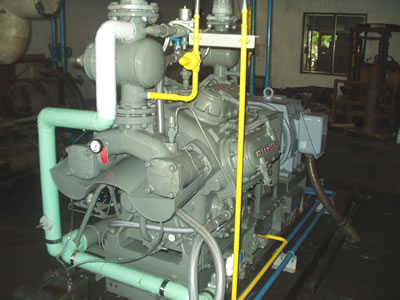 HRL renewed the ammonia compressor, the heart of the refrigeration facilities in the fishing port, which was built as an ODA project of Japan.
This renewal enhanced the operation capacity and efficiency of refrigeration.

Before
- Aged made-in-Japan ammonia screw compressor
- The production of the machine stopped and spare parts became unavailable.
- Repeating temporary treatments on an ad hoc basis
- Inefficiency of the machine performance resulted in high cost operation due to the increase of electricity and oil consumption
- Continuous monitoring by engineers

After
- Replaced with HRL's ammonia reciprocating compressors
- Significant reduction of energy and oil consumption
- The refrigeration capacity improved. High operation efficiency was achieved as a result of the reduction of freezing time.
- Higher profit from the reduction of operation costs and the increase of the renting income derived from enhanced operation rate.
- Easier maintenance. The controlled spare parts purchase plan enabled the systematic maintenance work.